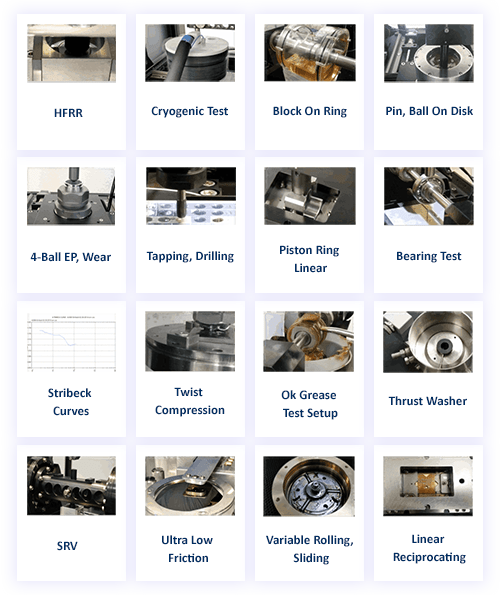 Lubricating Tribology Overview
Main Features:
Several ASTM, DIN, ISO Standards
Up to 10000 N Load
-60 to 1200°C Chambers
Stribeck Curves
Rotary, Reciprocating, Block on Ring, Tapping Motions
Help prevent mechanical failure with Rtec Instruments' lubricant triblogy testing equipment. The Multi Function Tribometer MFT-5000 runs several ASTM, DIN, ISO standards and customized tests to evaluate friction, wear, lubricity, and tribological properties of lubricant, oil, grease, additives, solid coatings, and more. Tests are available in controlled environmental conditions, including humidity, temperature, and loads from mN to 10,000N. Some examples of the Rtec tribometer lubriant testing include, HFRR, Timken, SRV, 4 Ball, Tapping Torque, and so much more.
Need help or have a question?
Lubricants, Oil, and Grease Testing On One Platform
Learn more detailed application information about our tribology testing equipment:
Get in touch, and request a demo.
© Copyright 2021 Rtec-Instruments - All Rights Reserved