Air Jet Erosion Tester Overview
Main Features:
Conforms to ASTM G76, ASTM G211-14
Automatic in-line sample and particle velocity measurement
Open platform allows to mount real samples and test coupons
Fully automatic – run and test data with click of a button
Perform repeated impact tests with Rtec Instruments' Air Jet Erosion Tester, the AJ-1000. To do this, the tester utilizes a jet of gas loaded with abrasive particles. As a result, the AJ-1000 is capable of measuring the precise erosion of samples. With temperature control up to 1200°C, The tester comes with closed-loop temperature. Additionally, the AJ-1000 ranks the erosion of various materials and coatings by subjecting samples to different abrasive particles of a variety of shapes, sizes, temperatures, and impact speeds.
Automated Positioning Stage
Automatic stage to move sample and velocity measurement system for ease of use and precise measurements.
Uniform Temperature
The AJ-1000 can go up to 1200 °C temperature (multiple ranges available). Study the effect of temperature with in-line temperature monitoring and PID closed-loop control.
Close Loop High Speed Double Disc Velocity Measurement
The time-of-flight of the particles is determined over a controlled path length between two rotating disks.  Servo controlled rpm, high speed double disc velocity for precise process control in real time.
Mixing and Impingement Angle
Software parameters control the mixing of hot air and erodent particles. The angles of impingement change to multiple positions from 0 to  90 degrees.
Erodent Particle Feed System
Stainless steel hoppers and vibrator with programmed motorized screw conveyor. 
Erodent feed rate– 1 -10 gm/min (higher range available)
Particle hopper capacity– up to 3 liter (multiple ranges)
Particle speed– 30-200 m/sec (multiple ranges available)
Each AJ-1000 includes an air pressure controller and a pressure gauge. Standard or user selected abrasive media are capable of evaluation.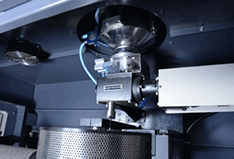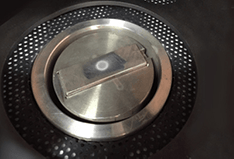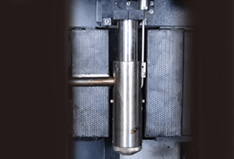 The AJ-1000 Air Jet Erosion Tester operates across a wide variety of industries:
Aerospace
Abrasion, Erosion Resistance
Get in touch, and request a demo.