Indentation and Scratch Tester SMT-5000 Overview
Main Features
Unique combination of indentation, scratch, profilometer, film thickness testing on one automatic platform.
Patented piezo and capacitive sensor technology.
Patented image correlation between scratch data and 3D images.
Nano, micro indentation and scratch tests on same platform using fast exchange heads.
The Surface Mechanical Tester SMT-5000 is a versatile instrument. It merges the ability to measure mechanical properties, such as hardness, modulus, scratch adhesion, film thickness, in addition to surface roughness and many others. All this power is consolidated in one single platform. To that end, the IST module provides both indentation and scratch. Combining piezo actuation and capacitive sensing technologies, the IST brings the highest precision measurements from nano to micro ranges.
Besides the IST module, the SMT-5000 incorporates spectral reflectance film thickness with 3D profilometry and environmental modules. All these capacities cater to demanding engineers and researchers in many fields.
Need help or have a question?
A Surface Material Tester Like No Other
Customize the SMT-5000 To Fit Your Needs

Combination of Indentation and Scratch Module
The IST module combines indentation and scratch testing capabilities in one single module.

Patented In-line Profilometer
3D profiler automatically combines high resolution surface topography with indentation and scratch data.

Lower automated XY Stage
The high precision cross-roller XY stage yields smooth and very accurate test positioning.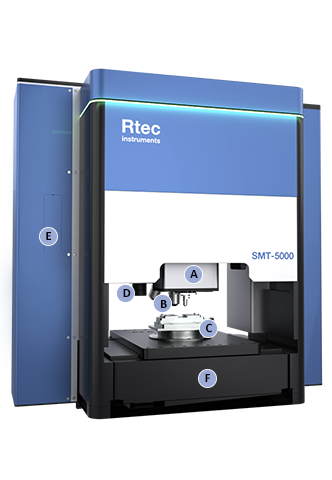 Non Destructive Film Thickness
Based on spectroscopic reflectance, film thickness measurement (FT-100) module provides a super fast and direct non contact film measurement.

Upper Z Structure
High precision multiple Z drives with high resolution encoders to move testing and inspection modules.

Platform
Open platform architecture for superior modular testing and ease of use.
Instrumented Indentation Tester
Automatic load and displacement curves, Hardness (Traditional and instrumented), Elastic Modulus, Creep, and many more calculations.
Easily interchangeable indentation head covering multiple load ranges from mN to 40 N
Unmatched performance with patented capacitive sensor technology
Berkovich, Vickers, Spherical, Cube Corner, Knoop, various diamond indenter tips, and more
Standard Vickers hardness or other traditional micro indentation scales.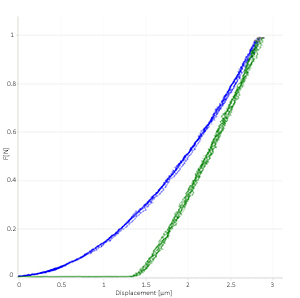 Characterize coating adhesion, scratch resistance, scratch hardness and more.
The synchronization of scratch data and 3D imaging ( Patent US 10,024,776 B2) is a unique and novel tool to study surface deformation and failures.
Piezo actuator for precise down motion during scratch test.
The best friction force sensitivity on the market owing to normal and tangential force sensors located in the head.

Multiple testing ranges from nano to macro on one platform. Easily interchangeable scratch heads.
Tests in various environments. (Temperature, humidity, corrosion and many more).
Measurement on flat or curved surface
Click here for few applications notes 
Automatic Stitching of In-line 3D Images
Scratch Data Visualization. Complete failure analysis and correlation to scratch data.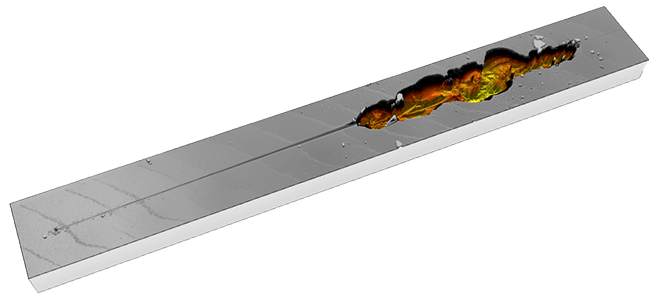 The complete 3D image of the scratch is obtained via automatic post-test imaging. The critical loads are easily positioned on the 3D panorama. In addition to the critical loads, the typical measurements enabled by this 3D imaging include scratch volume, penetration, residual deformation, roughness, and volume wear.
Load Profile and Custom Motions
Switch Quickly From Indenter to Scratch Tester
Load Profiles: constant, linear or user defined load profiles. The applied normal force and resulting friction forces measured using precise NIST traceable sensors.
Versatile XY Stage: The automatic  XY stage allows to perform multiple scratch or indentation on single or multiple samples automatically. Tests can be customize to achieve any motion profile such as straight, curved, circle, zigzag, and more.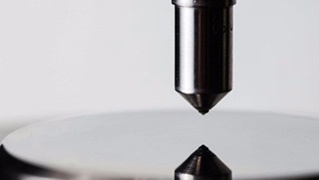 Indentation With Rockwell Tip
Scratch With Cutting Tool
Non Destructive Film Thickness Measurement
Ultra fast coating thickness determination
The film thickness measurement module uses spectral reflectance to obtain the thickness of a coated surfaces.
Extensive materials library (500+)
Real-time, one-click measurement and analysis of thickness, n&k and roughness measurement
Ease of use, no expert knowledge required
Powerful analysis package scaling correction, multi-sample measurement, dynamic measurement.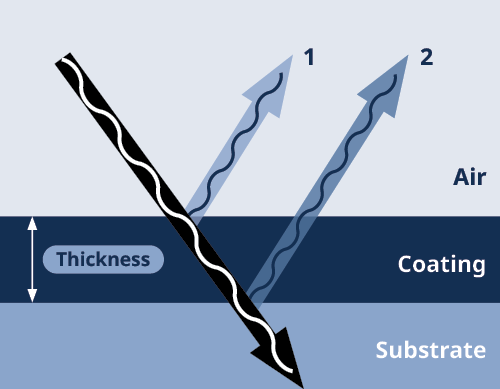 Patented Integrated Four Mode Profilometer
The profilometer is optimized to image scratch and indentation marks with high resolutions.  Automatic multiple imaging modes selection  to image any sample surface – transparent, glass, mirror, rough, smooth, steep slope, and much more with ease.

Dark Field Mode
Allows detection of cracks at the surface with notable contrast

White Light Interferometer Mode
Allows high resolution images of flat surfaces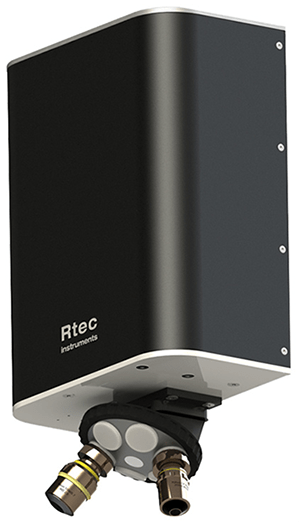 Spinning Disk Confocal Microscope Mode
Measures steep slopes,  transparent, dark or rough surfaces

Bright Field Mode
2D profiles with high resolution and real colors
Application specific solutions
Environmental chambers and a variety of sensors create numerous test variations that replicate real-life scenarios.
Electrical Contact Resistance
Identifies the coating failure point via the measure of the electrical resistance change during the scratch.
Acoustic Emission
Identifies brittle material failures by measuring the shock vibrations during the scratch.
Corrosion Setup
Allows scratch corrosion studies.
Environmental Chambers
Temperature, Humidity, and More.
Additional Sensors
Various sensors on coating scratch adhesion tester provides more information during the test.
Correlation of Deformation, Failure, and Surface Morphology Data

Pre & Post Test Image
Automatic surface deformation assessment with the comparison of before and after 3D images of the surface.

Scratch Test
Single or multiple scratches can be performed using predefined recipes.

Continuous Cross Profiler Analysis
Cross profiles measurements are available anywhere along the scratch.

Report
A simple and customizable report is generated with 3D images correlated to scratch data. Moreover, each critical load is presented with separate zoomed images. Additionally, other measures such as friction, roughness, residual depth, volume wear and permanent deformation are also provided.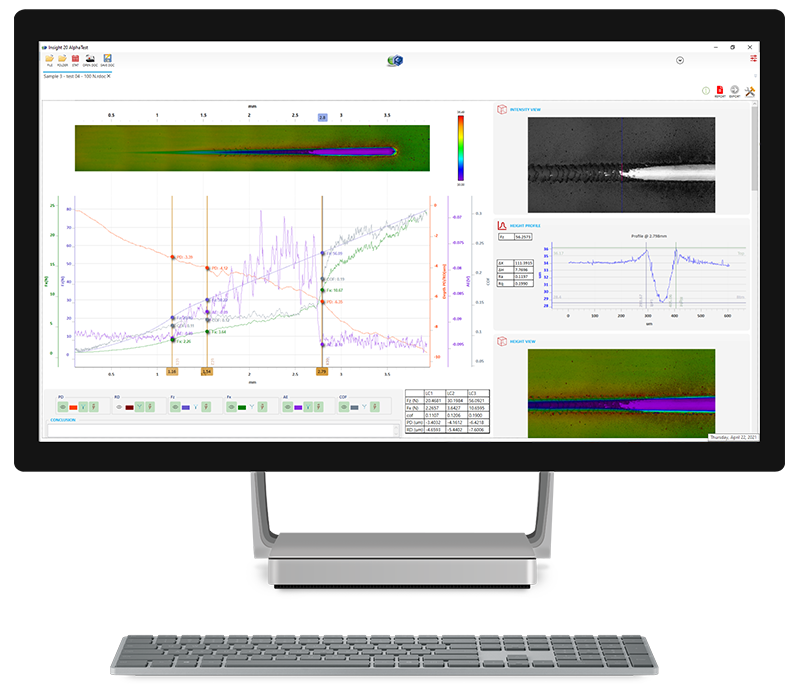 The Scratch Tester and Indenter Solution
Best the  SMT-5000 can easily switch from a hardness tester to a scratch tester, it is used extensively across a wide range of industries:
Aerospace
Thermal Spray Coatings
Turbine, engine, components
Anti corrosive coatings
Automotive
Marr Resistance 
Thermal Spray Coatings
DLC
Paints
Bio-materials
Bio compatible coatings
Medical devices
Joints
Valves, pumps
Ceramics
Ceramic coatings
Bulk materials
Hard Coating
Cutting tools
Thermal spray
DLC
Metal
Bulk Materials
Coatings
Textured surfaces
Optics and Glasses
Lenses
Touch screen
Consumer goods
Polymer
Marr resistance
Coating
Bulk materials
Semicon
Screens
Thin coatings
Protective coatings
Consumer goods
Get in touch, and request a demo.
© Copyright 2021 Rtec-Instruments - All Rights Reserved