MFT-2000 Tribometer Overview
Main Features * :
Servo control down force control
Up to 1000 °C
Modular with both linear and rotary motions
Wide load range mN to 100N*
Inline Inspection with an integrated 3D profilometer
Multi Function Tribometer MFT-2000 is a versatile and technologically advanced bench top tribometer for essential mechanical, scratch, and tribological characterization. An open platform architecture design for multiple configurations and ease of use. Fully automated test programs and advanced controllers allow for high repeatability and precision measurements. The servo control load patented multi-dimension force sensors and XY stage allows the MFT-2000 tribometer to run several tests covering scratch, tribology, wear, mechanical tests, and profilometry on the same platform. 
(* Depends on configuration)
Need help or have a question?
A Compact Tribometer Like No Other
A customizable bench top tribometer for comprehensive pin on plate and pin on disk analysis.

Modular Platform
Open platform designed for ease of use and easy access.

Lower Interchangeable Test Module
Interchangeable fast-exchange test modules perform several tests on same platform – rotary, reciprocating.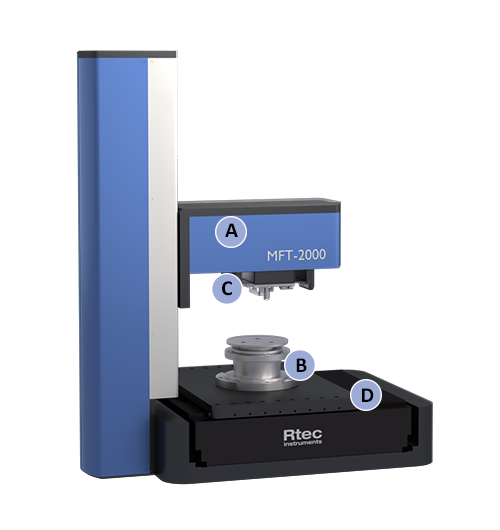 Force Sensor
Various two dimension high resolution real time friction and down force sensors up to 100 N.
XY stage
High precision linear XY stage to change test radius automatically and allows for integrated 3d profilometer
Multiple modules can be added on top of the XY stage:
MFT-2000 Tribometer Features
Wide range allows the tribometer to run several standard and non standard tests on the same platform.
Down Force Control
Real time force control during the test. The test can run at constant or changing load.
Temperature Control
Up to 1000 °C temperature chambers. Close loop temperature control during the test.
Sensors
2 dimensional patented sensors to produce repeated data at high resolution.
In-line Inspection
Patented inline 3D optical profilometer to look at surface change vs time or test with nm resolution
Software
Comes with our widely used operation and data analysis package software.
Rotary and Linear Modes
Easy to move between rotary and linear modules using fast exchange mechanism.
A Compact Tribometer Solution
Due to its multiple configurations, the MFT-2000 tribometer is used extensively across a wide range of industries:
Aerospace
Automotive
Bio Materials
Ceramics
Hard Coating
Lubricants
Metal
Optics and Glasses
Pharmaceutical
Polymer
Semicon
Get in touch, and request a demo.
© Copyright 2021 Rtec-Instruments - All Rights Reserved