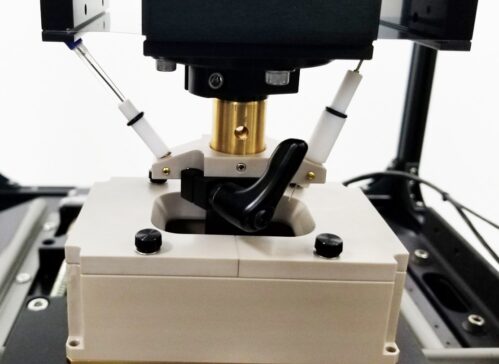 Tribocorrosion Module Information
Main Features:
Integrated 3 Electrode Potentiostat
Up to 70°C temperature (optional 150°C)
Upper or lower conductive samples
Why Tribocorrosion? Wear and corrosion involves several mechanical and chemical processes. The combination of these processes results in significant interaction that may occur beyond the individual contributions of mechanical wear and corrosion. Tribocorrosion studies help quantification of this wear corrosion synergism, or interaction, to minimize overall material loss and understand systems better.
Rtec Tribocorrosion tester cell mounts on the MFT series (Tribometer) or the SMT-5000 (Indentation and Scratch Tester). It equips a robust 3 electrode measurement system. During the test, the cell simultaneously measures real-time current, voltage, friction, wear, temperature, down force, and acoustic emissions.
Need help or have a question?
Rtec Tribocorrosion tribometer contains various features to improve testing capabilities.
Electrochemical Cell + Tribometer Combination
The floating ground integrated potentiostat comes with a wide current, voltage, and oscillating frequency range.
Tribocorrosion Test Modes
Study tribocorrosion in several test modes on the same platform. 
Tribology
Scratch Adhesion
Hardness
Fretting
Test Samples
The unique design allows either upper or lower samples (working electrode).
Setup
To investigate synergy of wear and corrosion of steel, the tests were carried out under cathodic and no cathodic protection conditions. We conducted 3 different load conditions (10, 100, 200 N at 2 Hz sliding frequency) at 70°C. The electrochemical polarization tribocorrosion tests were performed with a standard Ag/AgCl reference electrode and a platinum counter electrode.
OCP – Oper Circuit Potential (Ecorr)
The plot below shows the open circuit corrosion potential, Ecorr obtained from the integrated potentiostat.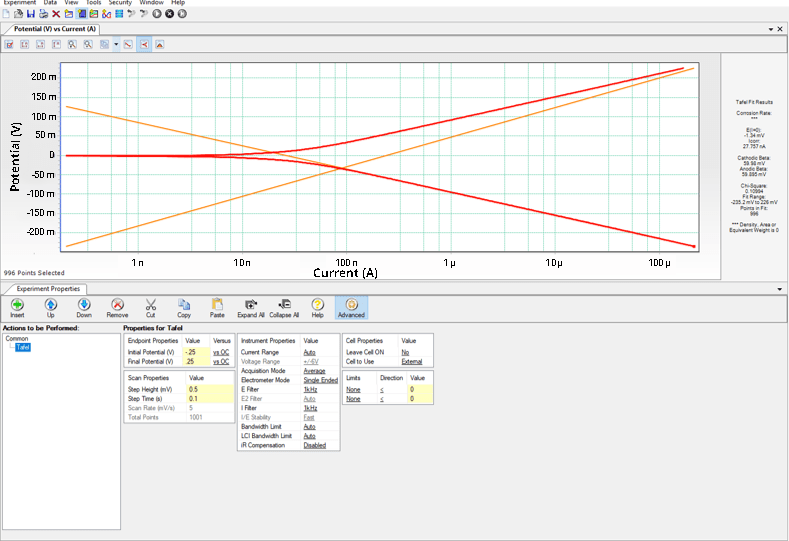 Results
The figure below shows the wear rate difference between the cathodic and non cathodic polarization conditions. The difference of the wear rate shows the synergy of the chemistry used during the test.
Conclusion
This corrosion tribology testing showed the importance of tribocorrosion studies. The wear loss rate attributed between mechanical vs mechanical + corrosion test was significantly different.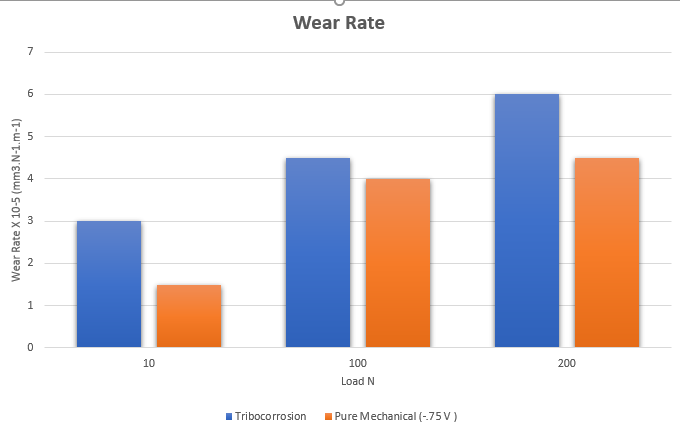 Tribocorrosion Solution To
The Tribocorrosion test setup is used extensively across a wide range of industries:
Bio-materials

Coatings

Lubricants

Metals

Metal Working Industry
Get in touch, and request a demo.
© Copyright 2021 Rtec-Instruments - All Rights Reserved