Micropitting Tester Overview
Main Features:
Load up to 8000 N (more ranges available)
Real-time force and speed control
Run several million cycles in a short duration
-35 to -150 °C temperature
Standard torque range up to 60 Nm* (larger range available)
Why Triple Disc Machine? Three-contact disc instruments are designed to assess and evaluate the resistance of materials or coatings to various types of wear. These types of wear include rolling contact fatigue (RCF), pitting, and micro-pitting. By simulating real-life conditions using different rolling or sliding combinations, contact pressures, and lubrication regimes, researchers and product developers explore and understand the behavior of materials, coatings, and lubricants under different operating conditions.
Rtec-Instruments' MPT-3000 Micropitting Tester is an ideal triple roller contact machine for studying traction, wear, and rolling contact fatigue under various combinations of rolling sliding ratios. The open platform architecture allows for easy access to the samples and setup. In addition, the fully automated and advanced controllers allow for high repeatability and precision measurements with the broadest test range in load, temperature, and speed. Quickly develop high-quality materials, coatings, and lubricants with automatic and repeatable failure and comparative analysis. In addition, the MPT-3000 helps ensure that manufactured components, such as gears, bearings, and other high-contact surfaces, meet the required standards and performance criteria fast and efficiently.
Need help or have a question?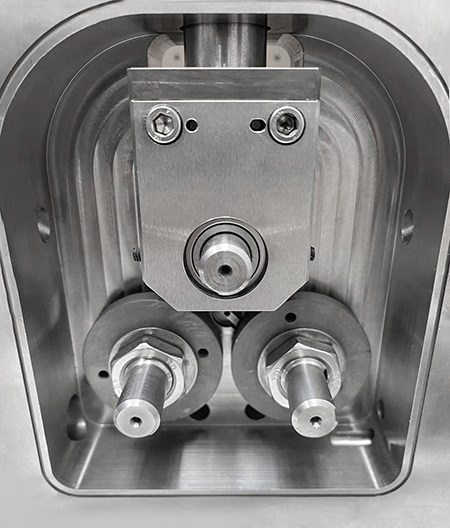 Rtec Instruments' micro pitting tester has several key design features, making it the only commercially available tester to run a broad set of conditions and in-line inspection on the same platform. With pure sliding, pure rolling, and 0 to +/- 200% sliding/rolling ratio (SRR), the MPT-2000 obtains high precision measurements.
Closed-loop Patented Force Sensor
Measure force with the capacitive force transducers that work across a wide range with no drift—real-time servo closed-loop force control. Create automatic torque vs. load and speed curves.
Precise Temperature Control
Closed-loop temperature controller with a range of -35 to 150°C. 
In-line Torque Measurement
Self-aligned in-line high-resolution torque sensors for smooth rotation and a wide range of testing.
Accurate Determination of Failures
The MPT-3000 micropitting tester  accommodates various in-line monitoring sensors to quantify real-time surface dynamics, including acoustic emission, electrical resistance, and potentiostat.
Rotary Motion
High power, high speed, and real-time speed control allow for repeatable data generation. Achieve a rolling velocity of up to 4 m/s at 0 pure rolling and an outside roller speed of 18 m/s at 6500 RPM.
Micropitting Testing Data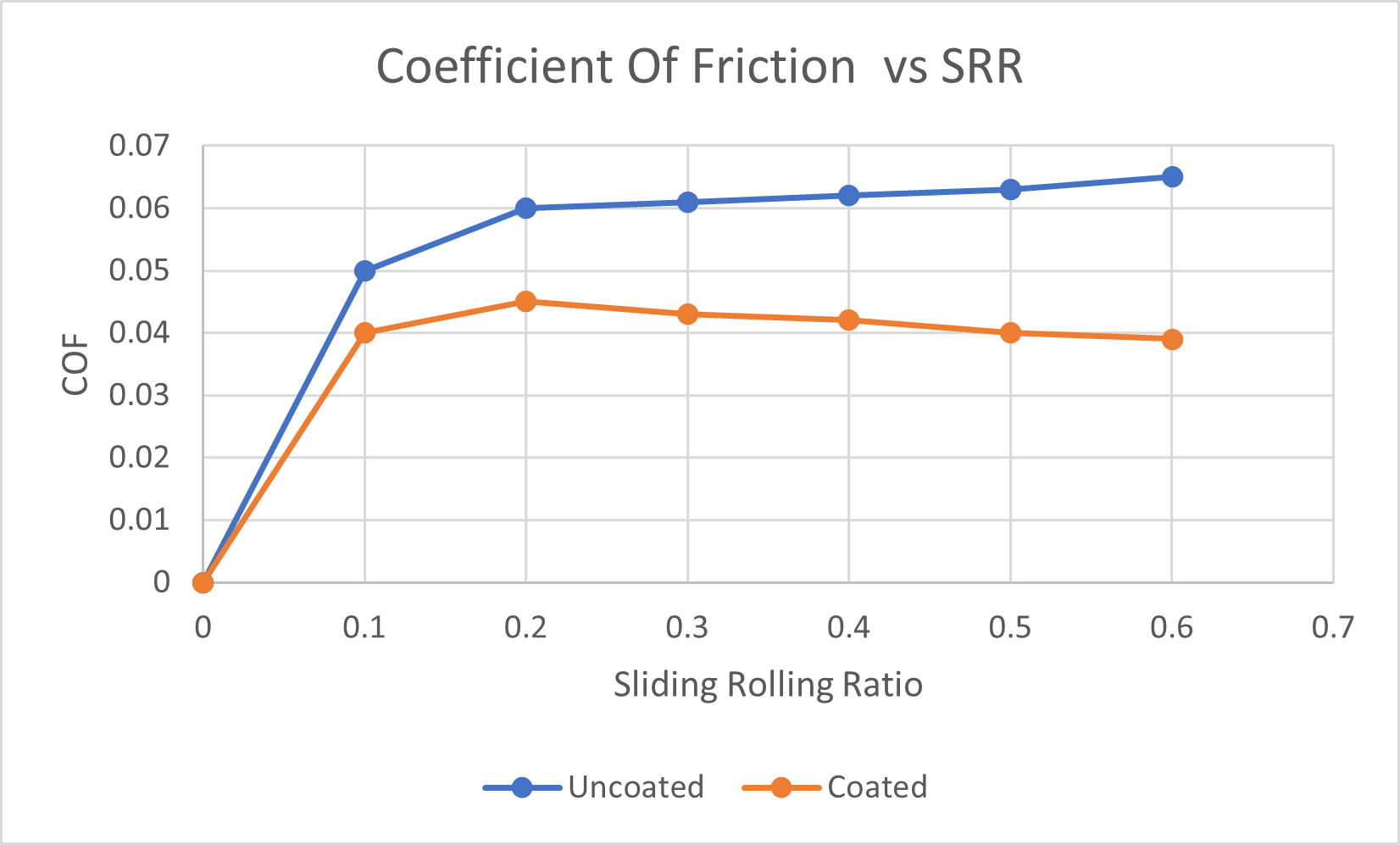 The data on the left shows the coefficient of friction results from rolling contact fatigue setup. Surface treatments were done on one sample. This data illustrates which improvement in RCF life after the thermal spray coating application.
Sample 1 – uncoated
Sample 2 – thermal spray coating
500 N force
SRR from 0 to 0.6
Temperature 70°C
Micropitting Testing and Surface Fatigue Solution
Evaluating rolling contact fatigue, pitting, and micropitting are essential for assessing the performance and durability of materials, coatings, and lubricants. The MPT-3000 triple-disc machine provides micropitting analysis and insights into wear and surface damage. Compare samples under controlled conditions for various applications and industrial uses.
Gears and gearboxes

Automotive industry bearings, transmission systems, and sustainable materials and lubricants

Power transmission industry systems and roller bearings

Industrial cyclic operations

Renewable energy wind turbines

Aerospace industry research of gears, bearings, and engine parts
Get in touch, and request a demo.
© Copyright 2021 Rtec-Instruments - All Rights Reserved