Rtec Instruments 3D Optical Profiler UP-3000 in Action
The 3D optical profilometer UP-3000's technology, performance, high accuracy, resolution, and versatility creates a class of its own. Equipped with fast scanning and high resolution, it offers the best solution for surface profiling.
Ultra High Speed
Industry leading camera with 200 Fps with nm resolution.
Best Resolution With Ease
Highest XYZ resolution across any sample at the click of a button.

Versatile Platform
Open platform , automatic XY stage, tip tilt stage, precision engineering
Next Gen Optical Profilometer Technology

Fastest Confocal - Full Area in 1 Scan
The disk and its 1000 pin holes illuminate the entire sample area in one quick scan. No need to move mirrors or XY stages using only 1 pin hole, as in conventional confocal.
Two High Speed Cameras
Each imaging technique use a dedicated high-speed camera to allow the optimization of the optical path and higher resolution. Conventional optical profilometers use only 1 optical path and 1 camera compromising the image quality.
4 Color LED
Uniform area illumination and wavelength selection based on the sample. Conventional laser sources produce artifacts and have a short product life.
Dark Field Imaging
Microscope optics provides both bright field and dark field modes. Conventional uses bright field imaging only.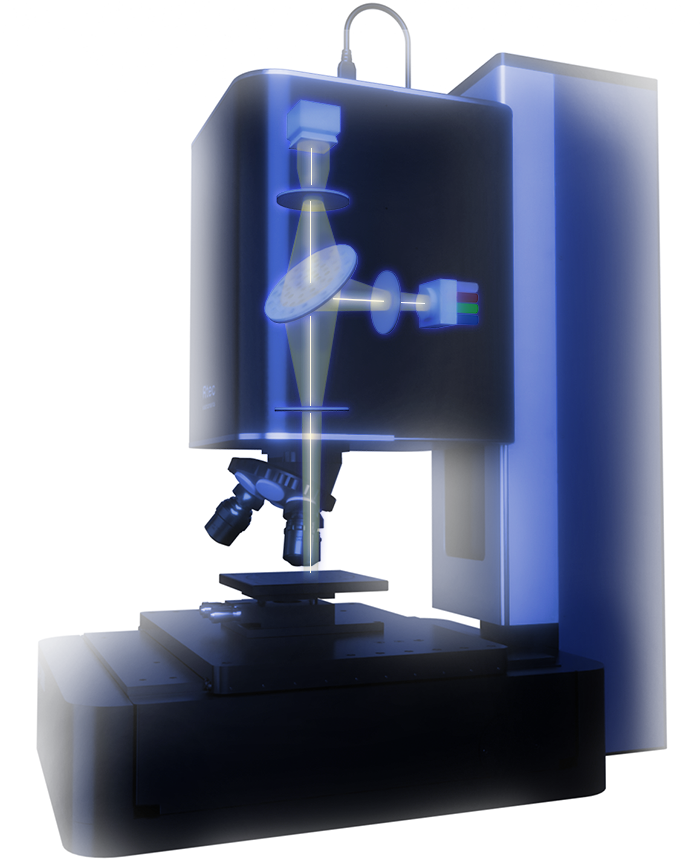 Capture The 3D Profile From Any Material
The 5-in-1 combination optical profilometry allows measurement of any kind of sample (smooth, rough, transparent, opaque, flat, non flat) with sub nm resolution.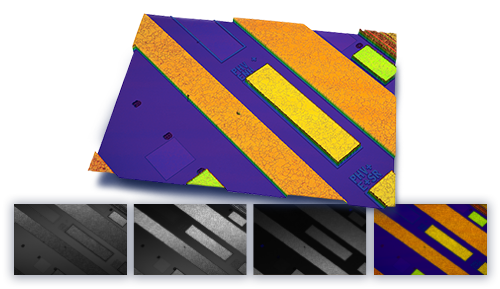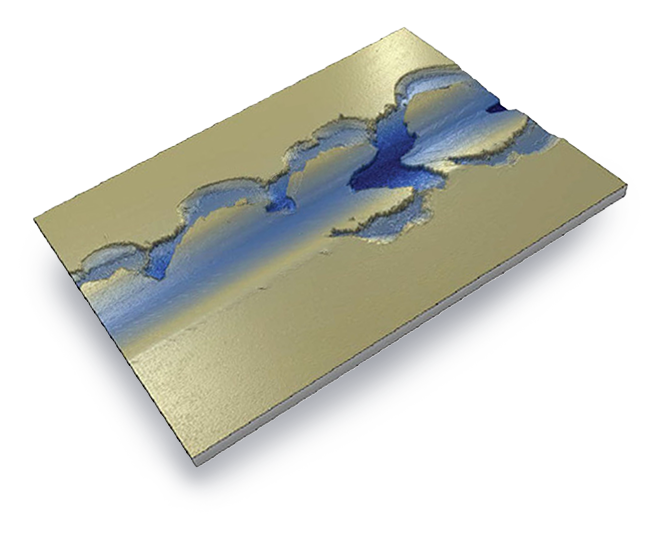 Confocal – Spinning Disk
Fastest Area Scan – OR Scan the surface area in an Instant
Highest XY resolution 3D optical profiler on the market.  Our Spinning Disk Confocal scanning technique is fastest and superior to point or laser confocal that requires XY stage or oscillator motion to generate 3D images. Our confocal microscope utilizes several thousand rotating pin holes that physically prevents out of focus light from entering the optical path. This eliminates background information, and hence improves image resolution. Generate highest precision data for transparent layers, steep slopes, dark samples and samples with features.
White Light Interferometry
With the highest Z resolution in optical profilometry,
the tester can run both phase shift interferometry for smooth samples, and white light interferometry for rough samples. The high speed camera provides rapid pace scan with sub nm resolution. Calculate surface roughness and surface finish in a second. Need only white light interferometry? Check out our white light interferometer,
the UP-2000
.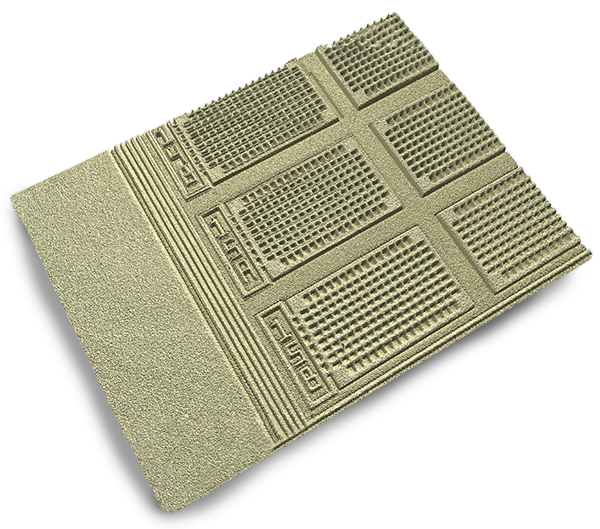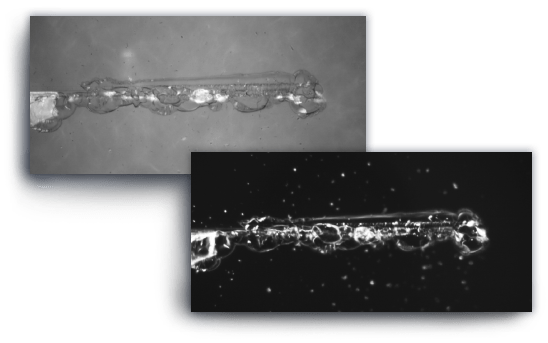 Our Dark Field Imaging finds cracks and defects with one-click. High contrast and high resolution data for quick detection of defects, particles, cracks, and more. Fast scanning of entire sample at highest resolution.
Variable Focus, Bright Field Imaging
Through a series of 3D surface slices taken of the sample at different focal planes, an entirely in-focus 3D image is created with focus variation.  Used for large  Z scanning ranges.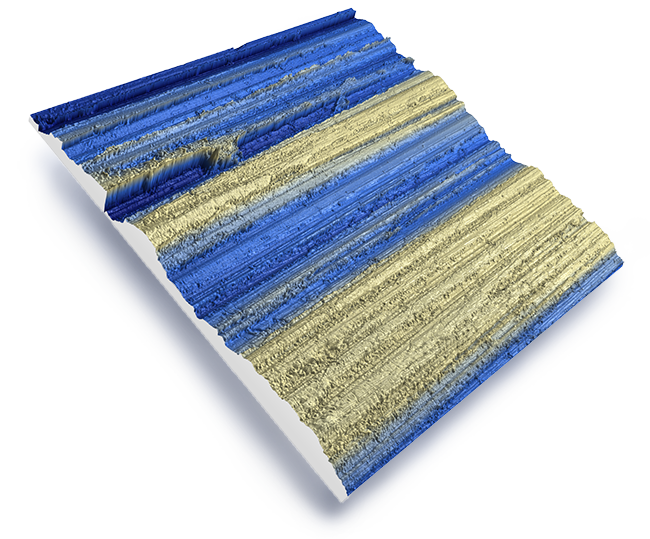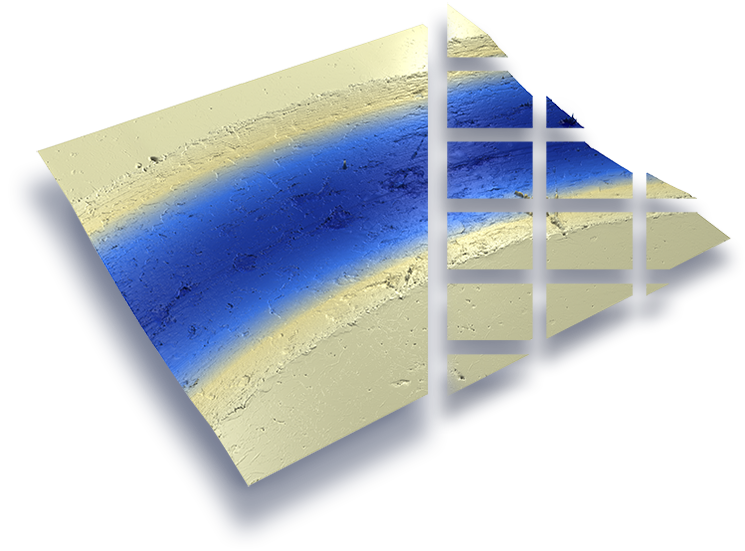 Automatic Stitching
Cross Roller Stages
Highest accuracy cross roller stages provide precise stitching across the entire sample surface. The completed 3D image is obtained and presented automatically.
Precise, easy to use, automatic, and ISO-compliant. Simply load a test recipe and click start. The software provides unequaled stability, precision, and insight.
The 3D Optical Profiler Solution
A wide range of industries extensively use the Universal Profilometer:
Aerospace
Automotive
Bio Materials
Coatings
Metals
Optics and Glasses
Polymer
Semicon
Pharmaceutical
Displays
Get in touch, and request a demo.
© Copyright 2021 Rtec-Instruments - All Rights Reserved