Hot Hardness Tester (Hochtemperatur-Härteprüfer)
Hot hardness testing up to 1200°C across multiple samples in inert atmosphere.
High Temperature Hardness Tester Overview
Module Features
Inert gas atmosphere
Automatic Rockwell hardness up to 1200°C 
Automatic multiple indents on multiple samples
Can accommodate several tips – Rockwell, Vicker's, and more
Up to 2000 N down force

Why Hot Hardness? Phenomena such as phase transformation and change in solubility of alloys could significantly alter the mechanical properties of the components used in high temperature applications. As the temperature of the material increases, its hardness generally decreases until it reaches a point where it shows a drastic reduction in hardness. Thus for accurate engineering calculations, such as component life and safety factor, it is imperative to measure the hardness of materials at the temperatures experienced during its use.

Rtec Solution – Perform hot hardness testing at elevated temperature up to 1200 °C. To prevent oxidation of tip and the samples, the chamber comes with optional inert gas sealed chamber. Mounts on our MFT-5000 platform. Motorized XY stages allow arrays of indents on same or across multiple samples.

Learn More about the MFT-5000's High Temperature options:
Brauchen Sie Hilfe oder haben Sie eine Frage?
Learn More About The MFT-5000 Platform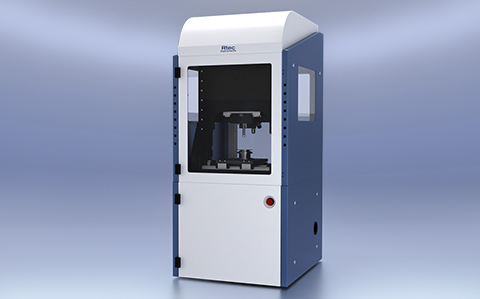 Learn more about the versatile MFT-5000 tribometer that provides friction, wear, and surface properties of various materials under a multitude of environments and testing conditions.
Hot Hardness Indent 3D Images
3D images taken using Rtec Universal Profilometer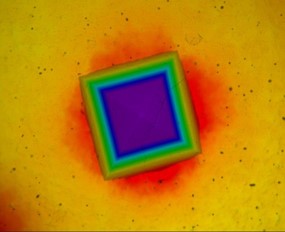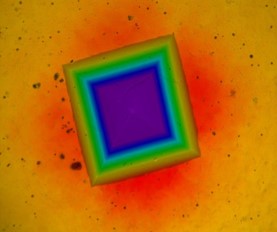 MFT-5000 high temperature modules are an excellent option for running hardness testing at elevated temperatures.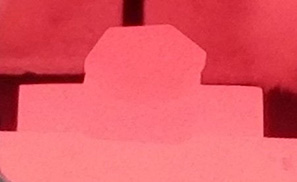 Design
Unique chamber design, exotic high temperature alloy materials, good thermal uniformity for repeatable data.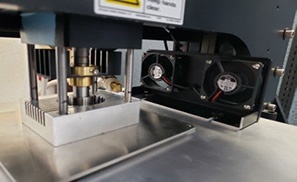 Environmental Control
The inert gas chamber allows reaching rough vacuum before purging the chamber with inert gas. This reduces oxygen concentration in the chamber and prevents oxidation of the sample surface and indenters.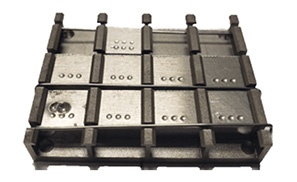 Multiple Samples and Automatic Indents
Multiple indents across different samples or within same sample with only one click.
Hot Hardness Testing Analysis
The table shows materials hardness vs temperature for certain metallic alloy.
The high temperature hardness module on the MFT-5000 is interchangeable to allow running several other standard and non standard high temperature tests on the same platform.
Sensor
Isolate the high resolution load cells using innovative design and methods resulting in negligible thermal drift during the test.
Down force control
Real-time force control during the test. This allows to run several hardness standard on same tool.
Temperaturkontrolle
Close loop temperature control characterizes hardness at various temperatures.
XY Stage
The XY stage to create multiple indents automatically at various temperatures and locations.
Hot Hardness Testing Solution
The Hot Hardness tester is used extensively across a wide range of industries:
Aerospace

Hard Coating

Lubricants

Metal

Polymer

Take a closer look at the versatile Multi Function Tribometer.
Möchten Sie mehr erfahren?
Kontaktieren Sie uns und fordern Sie eine Demonstration an.
© Copyright 2021 Rtec-Instruments - All Rights Reserved