Übersicht: Fretting-Testmodul
Merkmale:
Amplitude: von 10 Mikron bis 2,8 mm (Optional von 5 Mikron bis 4 mm)
Frequenz: bis 300 Hz
Piezo-Sensoren
Bewegung erzeugt mit elektromagnetischen Spulen
Anwendungen, die von Material-, Schmiermittel-, Fett- und Beschichtungstests reichen, verwenden den Fretting-Tester von Rtec Instruments. Das hochmoderne Fretting-Modul verfügt über branchenführende Spezifikationen zu Hub und Frequenz. Ein kontrollierter Hub von 5 Mikron bei einer Frequenz von 300 Hz über einen weiten Temperaturbereich macht es zu einem idealen Prüfgerät für Reibverschleiß-Materialeigenschaften sowohl für Industrie und Universitäten.
Brauchen Sie Hilfe oder haben Sie eine Frage?
Voice Coil With Real Time Stroke Control
Technology break through in voice coil control, high frequency signal processing algorithms provide fretting wear tests with less than 5 micron stroke and characterizes fretting wear from micron to macro scale. Ultra sensitive piezo based load cells, combined with a robust design, high stiffness holders, and low floor noise allow quantitative fretting wear characterization of materials, interfaces, thin films, components, and more.
The Smallest Controllable Stroke - 5 um to 4 mm, up to 300Hz
Real time stroke, frequency monitoring, and correction using LVDT.
High Reliability - Flexure Design
The flexural suspension guides the magnet assembly without
bearings.
Environmental Control, Surface Electrical Measurement
Humidity, temperature, inert gas, and electrical measurements for
real-life simulation.
High Frequency Response Force Sensors
Piezo based sensors measure friction force with ultra high accuracy at high frequency reciprocating test.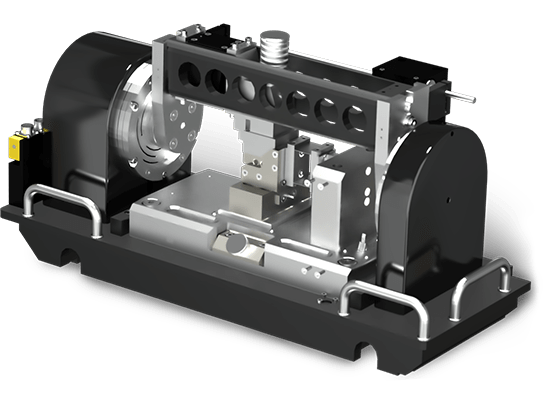 The Fretting Module Is perfect for testing surface damage that occurs between two contacting surfaces experiencing oscillatory displacement of a small amplitude.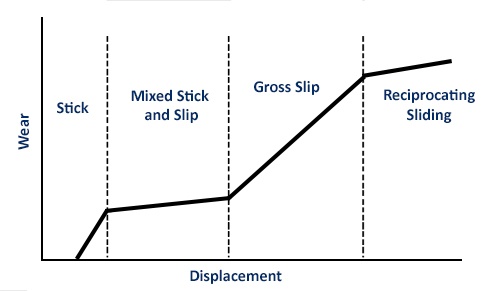 Test Debris
Debris formation from asperity contacts
Oxidation at contacting surface because of humidity, temperature, or chemical composition

 

change
Oil, lubrication starvation regimes causing wear
Wear due to electric discharge
Repetitive collision between surfaces
Fatigue related cracks – onset of debris
Polymerization of organic materials at surface
Fine powdered debris – highly oxidized
Residual steady stage flow of debris
Diffusive wear
Melting wear
Reliable and Customizable
To simulate real life scenarios, tests can be done in controlled environmental conditions. Easy to use and intuitive data interpretation makes this tester an ideal tool in hands of researchers or quality control engineers.
Actuators
Displacement 5um-4mm
Resolution: 0.1um
Oscillation frequency: Up to 300Hz
Environmental
Temperature control
Humidity controlled chamber
Sensoren
Potentiostat
Acoustic Emission
Electrical Contact Resistance
Standards
ASTM E2789
ISO 19291
ASTM D6425
ASTM D7421
ASTM D5707
ASTM D5706
ASTM D7594
DIN 51834-2
DIN 51834-3
DIN 51834-4
Due to multiple configurations, the MFT-5000  fretting module is used extensively across a wide range of industries:
Aerospace
Wear Resistance
Fretting
Thermal Spray Coatings
High Temperature
Automotive
Fretting and Wear Resistance
Engine Related Tests
Tribology, Friction, and Wear
Bio-materials
Korrosion
Fretting (Schwing-Verschlei)
Ceramics
Wear Resistance
Fretting and Friction Testing
Lubricants
HFRR
Wear Resistance and Friction
Metal
Fretting
Tribology and Friction Testing
Optics and Glasses
Fretting and Wear Resistance
Semicon
Fretting
Wear Resistance
Tribology and Friction Testing
Möchten Sie mehr erfahren?
Kontaktieren Sie uns und fordern Sie eine Demonstration an.
© Copyright 2021 Rtec-Instruments - All Rights Reserved