Main Features:
Patented dual load sensor technology
Load Range Nano, Micro, Macro
-50 °C to 1000 °C
Modular with Interchangeable Modules
The state-of-the art Multi Function Tribometer MFT-3000 is a versatile and technologically advanced bench top tribometer. With next generation patented dual force sensor technology, it generates friction tests from nano to macro test range with great accuracy. With ultra high resolution, high speeds, and a wide environmental control range, several tribological applications possible with ease.
Need help or have a question?
A Bench Top Tribometer Like No Other
A dual sensor tribomter like no other. Customizable for your needs.

Platform
Rigid heavy duty construction design to conduct tribology tests on a bench top design

Environmental control
Wide temperature (-50 °C to 1000 °C), humidity (5 to 95% RH), tribocorrosion and many more chambers available on the same platform

Lower Interchangeable Test Module
Interchangeable fast-exchange test modules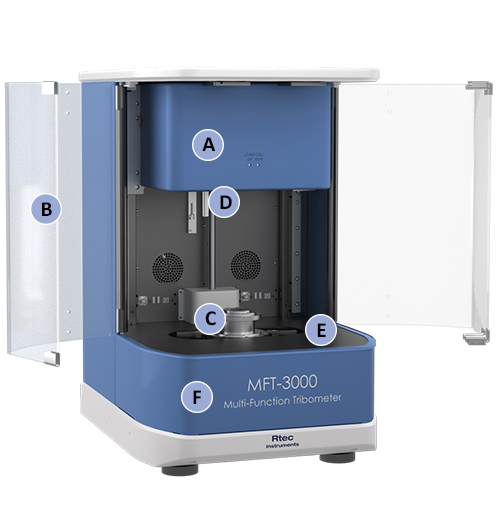 Dual Force Sensor
Dual simultaneous mounted patented range sensors from mN to 3000 N. 

X Stage
High precision 150 mm X stage to move test modules automatically

Data Acquisition, Motion Controller
Advanced high speed, low noise, multiple channel, fast feedback and highest data acquisition rate (200KHz) controllers
Multiple modules can be added on top of the XY stage:
Patented Dual Sensor Technology
Automatically change from nano to macro force range.
Full range available on same setup: No removing or interchanging sensors.
Highest resolution across the entire range.
Automatic sensor recognition.
Unmatched Load Cell Technology
Capacitive, Piezo, And More
The universal mechanical tester MFT-3000 has a wide range of patented load cells providing unparalleled stability and resolution. Additionally, the wide load range extends from nN to 3,000 N with easy interchangeable load cells.

Capacitive Load Cells
Highest resolution load cells with rigid design

Strain Gauge Load Cells
Sensors with widest load range

Piezo Load Cells
Highest resolution load cells with high frequency response
The friction coefficient and wear highly depend on environmental conditions. Therefore, tests should occur in conditions close to real application. MFT-3000 has a wide range of options (high temperature, corrosion, cooling, inert gas) available on the tribometer.
Contact us
for more application specific information.

High Heat and Cryogenic
Cryogenic to high temperature close loop chambers. -50 °C to 1000 °C
Controlled Humidity
Control humidity from 5 to 95% RH to simulate real life scenarios

Environmental Control
Tribocorrosion, inert gas chambers for various applications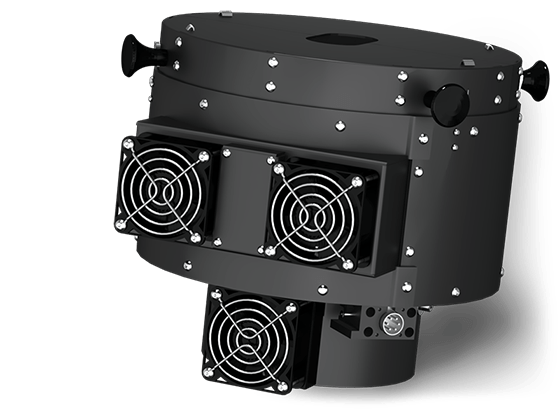 The Bench Top Tribometer Solution
Due to its multiple configurations, the MFT-3000 tribometer provides analysis for a wide range of industries:
Aerospace
Thermal Spray Coatings
Wear Resistance
Fretting
Vacuum
High Temperature
Cryogenic
Abrasion, Erosion Resistance
Automotive
Brake Testing
Marr Resistance, Scratch Adhesion
Thermal Spray Coatings
Oil, Lubricant, Additives Testing
Fretting and Wear Resistance
Engine Related Tests
Tribology, Friction, and Wear
Bio-materials
Coatings Adhesion
Scratch Resistance
Fretting and Wear Resistance
Corrosion
Ceramics
Scratch Resistance
Tribology and Friction Testing
Hard Coating
Indentation
Scratch Resistance
Fretting
Turning and Tapping Torque
High Temperature
Lubricants
Block on Ring, Timken, OK, EP
4Ball Wear and EP
Rotary pin, ball, ring on disk
HFRR
SRV
Tapping Torque, TCT, Drilling
Piston Ring Liner
Thrust Washer
Low Temperature Testing
High Temperature Testing
Linear Reciprocating
Variable Rolling to Sliding
Metal
Hot Hardness
Scratch Hardness
Tribology and Friction Testing
High Temperature
Optics and Glasses
Scratch Resistance
Indentation
Polymer
Scratch Resistance
Indentation
High Temperature
Turning and Tapping Torque
Semicon
Indentation
Scratch Resistance
Tribology and Friction Testing
Get in touch, and request a demo.
© Copyright 2021 Rtec-Instruments - All Rights Reserved